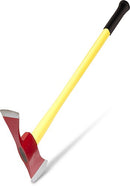 Description
One of the most durable pulaski's in existence today. Made with the Classic Nuplaglas® handle that exceeds all Federal standards. This handle is is flame resistant to 250 degrees. Safe to use in wet conditions due to dielectric propertiies. Nupla handes are unaffected by moisture and most industrial chemicals. They are also easily cleaned of tar and concrete.
Specifications:
Overall Length: 36"
Handle: Fiberglass
Head Weight: 3.5 lbs
Brand: Nuplaglas
Made in USA
Manufacturer's Lifetime Warranty
Size Guides
Age Recommendations

Size & Length

Recommended Hawks (by SKU)

12 & Under

Small Hawks(16")

Teens & Women

Medium Hawks (18"-19")

TM112, TM103A, 310-102, 310-103, KT102,

KT103, KT104

Men

Large Hawks (19")

B101, TM101, TM102, KT102, KT103,TM105, TM106, TM108
Payment & Security
Your payment information is processed securely. We do not store credit card details nor have access to your credit card information.