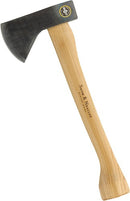 Description
The Penobscot Bay Kindling Axe by Snow & Nealley offers a compact hatchet/axe destined for backpacks across the world. This kindling axe is idea for splitting kindling in camp, on the trail, and everywhere in between.
Specifications:
Overall Length: 18 inches
Overall Weight: 5 lbs
Head Weight: 1.5 lbs
Fire-hardened
Forged
Manufacturer's Lifetime Warranty
Leather Blade Guard Included
Size Guides
Age Recommendations

Size & Length

Recommended Hawks (by SKU)

12 & Under

Small Hawks(16")

Teens & Women

Medium Hawks (18"-19")

TM112, TM103A, 310-102, 310-103, KT102,

KT103, KT104

Men

Large Hawks (19")

B101, TM101, TM102, KT102, KT103,TM105, TM106, TM108
Payment & Security
Your payment information is processed securely. We do not store credit card details nor have access to your credit card information.
My husband loves the kindling axe
My husband was so happy with this gift. We burn a lot of firewood- he is also a forester. We are from ME so loves it is ME made as well.
He is looking forward to years of use.