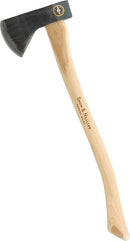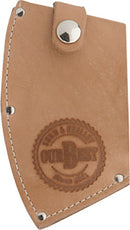 Description
Top of the line camping axe for the outdoor professional. Snow & Nealley has done it again with a fantastic camping axe that will last a lifetime. This 24 inch hickory handled axe is a favorite among outdoor professionals and forest serviceman around the country.
Specifications:
Overall Length: 24"
Head Weight: 1.75 lbs
Blade Length: 3.5"
Handle: Hickory
Leather Blade Guard Included
Manufacturer's Lifetime Warranty
Size Guides
Age Recommendations

Size & Length

Recommended Hawks (by SKU)

12 & Under

Small Hawks(16")

Teens & Women

Medium Hawks (18"-19")

TM112, TM103A, 310-102, 310-103, KT102,

KT103, KT104

Men

Large Hawks (19")

B101, TM101, TM102, KT102, KT103,TM105, TM106, TM108
Payment & Security
Your payment information is processed securely. We do not store credit card details nor have access to your credit card information.
Camp axe
Nice presentation, needs sharpening, feel good chopped dry dog wood tree with some work.I think it is a very good camp tool