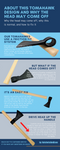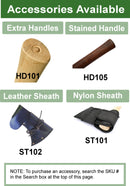 Description
Why buy this best competition throwing hawk? Oil tempered high carbon steel head, WAXED American Hickory handle, rust protectant coating & guaranteed against defects.

Specifications
| | |
| --- | --- |
| Best Seller | Yes |
| Overall Shipping Weight | 3 lbs |
| Blade Type | High Carbon Steel |
| Blade Edge Length | 4 inches |
| Blade Weight | 2.5 lbs |
| Handle Type | Straight Grain Premium A Grade USA American Hickory Wood |
| Handle Length | 19 inches |
Why Buy Our Best Competition Throwing Hawk?
100% Guaranteed Against Manufacturers Defects
All HatchetsandAxes.com products are 100% guaranteed against manufacturers defects. While most of our tomahawk heads are hand forged, and our professional blacksmiths inspect each product to ensure they are free of defects, occasionally a defect will pass through quality control due to the hand crafted nature of our products. If you should receive a product with any defect such as cracking we will replace it for you free of charge.
Wax Coated Tomahawk Handles
Each handle is carefully coated with beeswax in order to ensure a secure grip and reliable protection. Our handles come sanded smooth, splinter free and this wax coating makes for an amazing grip (even when your handle gets wet).
Straight Grain USA Made Hickory Handles
All our throwing tomahawks come standard with 100% USA made straight grain hickory. We get our wood from the world famous Appalachian mountains and hand selected hickory.
Hand Forged Head
HatchetsandAxes.com has professional blacksmiths that produce all of our tomahawks and axes. Our forge is dedicated to producing top quality products.
High Carbon Steel Blade
Each blade is hand forged from high carbon steel. The steel we have chosen has been selected as a result of diligent testing and ensure strength, durability, and long term reliability.
Sharpened Blade Edges
Each blade is sharpened to ensure maximum penetration under current NMLRA rules and regulations. These blades are not designed to be extremely sharp (like the type you shave with).
NMLRA Approved Hawks
NMLRA stands for the National Muzzle-Loading & Rifle Association. HatchetsandAxes.com is a proud support of the NMLRA as well as provider of throwing tomahawks that follow the specific regulations of the NMLRA hawk throwing rules.
More Competition Hawk Info
Hatchetsandaxes.com have been selling tomahawks and other knife products over the years now but the Best Competition throwing tomahawk by far is the most favored tomahawk we've seen. The tomahawk blade and its handle are made from the finest materials. Throwing this tomahawk is easily done because of its great construction.
The hand forged head and splinter free handle with beeswax coating ensure a secure grip which is awesome when you start using this tomahawk. Buying the best competition throwing tomahawk as one of your practice tomahawks is a choice you'll never regret. Hurry and get your own tomahawk now!
Features Include:
Overall Length: 19 inches

Blade Edge: 4 inches!

Excellent Wear Resistance

Heat Treated Blade Edge

Handle: Straight Grain American Hickory (USA Made)

Handle Finish: Smooth Sanded & Wax Coated

Use: Recreational or Competition

Weight: About 1 lb 8 oz

Brand: Thrower Supply
Accessories for this Hawk:
Basic Nylon Sheath

Custom Nylon Sheath

Custom Leather Sheath

Basic 19" Replacement Handle

Custom Walnut Stained Replacement Handle

How to Throw Tomahawk Book
Extra Handles That Fit This Hawk:
19 inch Hickory Throwing Tomahawk

Handles (#HD101)

19 inch Walnut Stained Hickory Handles (SKU # HD103)
Videos About This Product
Compare Tomahawks
| | | |
| --- | --- | --- |
|   | Best Competition Throwing Tomahawk | Polished Competition Throwing Tomahawk |
| Price | $39.99 | $44.99 |
| Overall Shipping Weight | 2.5 | 2.5 |
| Blade Finish | Natural Steel Finish | Polished Chrome Finish |
| Blade Edge Length | 4 inches | 4 inches |
| Handle Length | 19 inches | 19 inches |
| | | |
| --- | --- | --- |
|   | Scout Throwing Tomahawk | Blue Steel Tomahawk |
| Price | $32.99 | $49.99 |
| Overall Shipping Weight | 2.25 | 2.5 |
| Blade Finish | Natural Steel Finish | Blue Steel Finish |
| Blade Edge Length | 4 inches | 4 inches |
| Handle Length | 19 inches | 19 inches |
Size Guides
Age Recommendations

Size & Length

Recommended Hawks (by SKU)

12 & Under

Small Hawks(16")

Teens & Women

Medium Hawks (18"-19")

TM112, TM103A, 310-102, 310-103, KT102,

KT103, KT104

Men

Large Hawks (19")

B101, TM101, TM102, KT102, KT103,TM105, TM106, TM108
Payment & Security
Your payment information is processed securely. We do not store credit card details nor have access to your credit card information.
Best Competition Throwing Tomahawk
Great product and fast delivery
Nice
I got 3 tomahawks for my husband for Father's day and they are fun! The simple design is nice and they are easy to throw. Our only complaint is how the axe head slides down the handle. I wish it would stay in 1 place, it's a bit annoying. But I assume the design is to we can replace the handle without buying a new head so that is smart.
They are well weighted and take learning to throw which makes it much more fun! We enjoyed our time throwing these axes and can't wait to get out to do it again!
It works as expected!
My hawk arrived in good condition and well packed.
The handle was straight grained and had been well sanded with no splinters or burrs.
It throws true and I'm very pleased with how it performed.
I actually ordered another hawk that will be delivered tomorrow.
I have had none of the problems that other reviewers complained about.
Thanks for a good product that functions as it should.
I plan to buy more in the future.
Good job guys!
Quality is great. I think these will be around in our family for a long time.