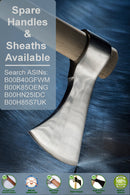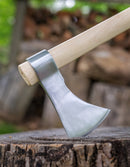 Description
This is a masterpiece we like to call the "Polished Competition Hawk" at the forge. It is uniquely hand forged in a high carbon polished steel design that makes it an impressive piece from all angles. This is a limited edition that cannot be found anywhere else in the world because it was made exclusively for us.
Specifications
| | |
| --- | --- |
| Overall Shipping Weight | 2.5 |
| Blade Type | Hand Forged High Carbon Steel |
| Blade Edge Length | 4 inches |
| Handle Length | 19 inches |
| Handle Type | Straight Grain American Hickory Wood |
Why Buy Our Polished Throwing Hawk?
100% Guaranteed Against Manufacturers Defects
All HatchetsandAxes.com products are 100% guaranteed against manufacturers defects. While most of our tomahawk heads are hand forged, and our professional blacksmiths inspect each product to ensure they are free of defects, occasionally a defect will pass through quality control due to the hand crafted nature of our products. If you should receive a product with any defect such as cracking we will replace it for you free of charge.
Wax Coated Tomahawk Handles
Each handle is carefully coated with beeswax in order to ensure a secure grip and reliable protection. Our handles come sanded smooth, splinter free and this wax coating makes for an amazing grip (even when your handle gets wet). Be sure to check out our upgraded handles which feature the same great straight grain hickory but come in a beautiful walnut stain (and then coated with wax).
NMLRA Approved Hawks
NMLRA stands for the National Muzzle-Loading & Rifle Association. HatchetsandAxes.com is a proud support of the NMLRA as well as provider of throwing tomahawks that follow the specific regulations of the NMLRA hawk throwing rules.
High Carbon Steel Blade
Each blade is hand forged from high carbon steel. The steel we have chosen has been selected as a result of diligent testing and ensure strength, durability, and long term reliability. Due to the nature of steel, each head will come with a light protective coating to prevent rusting.
Straight Grain USA Made Hickory Handles
All our throwing tomahawks come standard with 100% USA made straight grain hickory. We get our wood from the world famous Appalachian mountains and hand selected hickory. These handles are built to last and have proven themselves as a great combination of affordability and reliability.
Sharpened Blade Edges
Each blade is sharpened to ensure maximum penetration under current NMLRA rules and regulations. These blades are not designed to be extremely sharp (like the type you shave with). Our blade edges are far from dull, but they are sharpened only enough to hold a sharp enough edge for typical cutting & throwing scenarios.
Hand Forged Head
HatchetsandAxes.com has professional blacksmiths that produce all of our tomahawks and axes. Our forge is dedicated to producing top quality products. In our case, hand forging results in the most durable, long lasting and highest quality products. Yeah, it's a more traditional approach, we know that. But we stick with it when other companies try and cut corners and drop forge their products.
---
Getting a polished competition throwing tomahawk from us will give you guarantee that the product will be 100% free from defects. Its chrome finish is lovely and somehow adds to its perfect and flawless appeal. Though polished and treated to avoid rust, you will still need to make sure that you take extra care of your tomahawk to avoid rusting. Making sure that it is enclosed on a tomahawk sheath and oiled regularly even when not used are just the few things you need to do for this tomahawk.
The better you take care of this tool, the better performance it will give you once you are out in the woods for practice throwing or competition. Hurry and buy now!
More Polished Throwing Hawk Info
This a SWEET hawk. We just finished the design & samples for this bad hawk (and two other variations) from the forge. As you can see by the images (no photoshop - bare images) - this hawk is polished to perfection! It is designed for throwing and comes sharpened and ready to go. This tomahawk has the same head weight and style of the award winning competition throwing tomahawk. The difference is in the polished chrome finish.
Features Include:
Overall Length: 19 inches
Blade Edge: 4 inches!
Blade: High Carbon Hand Forged Steel
Blade Finish: Polished
Blade Edge is Heat Treated / Oil Tempered
Handle: Straight Grain American Hickory (USA Made)
Handle Finish: Smooth Sanded & Wax Coated
Use: Recreational or Competition
Weight: About 1 lb 8 oz
Accessories for this Hawk:
*Note 1: The tomahawk head is unsecured from the handle. This is done on purpose for two reasons. The first being that our experience is that a pinned or otherwise secured head breaks the handle easier. The second is for your being able to customize and interchange handles to your liking. *Note 2: This polished tomahawk head will come packaged with a clear coat finish designed to protect the blade from rust.
---
More About Thrower Supply Brand
Thrower supply is a throwing tomahawk manufacturer that offers uniquely hand forged throwing tomahawks. They supply hawks to throwers across the world.
For quality throwing tomahawks at affordable prices, Thrower Supply is the ideal brand of tomahawk!
Size Guides
Age Recommendations

Size & Length

Recommended Hawks (by SKU)

12 & Under

Small Hawks(16")

Teens & Women

Medium Hawks (18"-19")

TM112, TM103A, 310-102, 310-103, KT102,

KT103, KT104

Men

Large Hawks (19")

B101, TM101, TM102, KT102, KT103,TM105, TM106, TM108
Payment & Security
Your payment information is processed securely. We do not store credit card details nor have access to your credit card information.
Polished throwing tomahawk
The tomahawk head is great but I'm afraid to throw it because I'm sure the head will come off of the handle. I am hoping you will rectify this problem I would li,e to try throwing it
Great product
A very balance tomahawk and pleasant to throw. I would recommend this product and will most likely order another. When ordered I received within following week.
Great Customer Service
Had a mixup initially with my order. Customer service responded to my concern and made it right. Got the hatchet I wanted and it looks great. Thanks!
Polished tomahawk
Just as described , very happy with the tomahawk, will purchase more