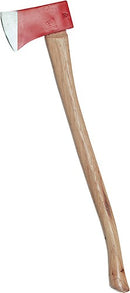 Description
Single bit felling axe by Council. This 28 inch single blade tree felling axe features a 2.25 lb axe head. The 28 inch handle is made from A grade American Hickory wood.
Specifications:
Overall Length: 28"
Head Weight: 2.25 lbs
Blade: 3-7/8"
Handle: Straight Grain Hickory Wood
Size Guides
Age Recommendations

Size & Length

Recommended Hawks (by SKU)

12 & Under

Small Hawks(16")

Teens & Women

Medium Hawks (18"-19")

TM112, TM103A, 310-102, 310-103, KT102,

KT103, KT104

Men

Large Hawks (19")

B101, TM101, TM102, KT102, KT103,TM105, TM106, TM108
Payment & Security
Your payment information is processed securely. We do not store credit card details nor have access to your credit card information.