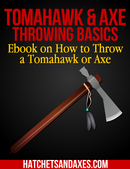 Description
3-in-1 Tomahawk Throwing Package. Beginners hawk axe throwing kit includes 1 throwing tomahawk, 1 spare hickory handle, and 1 axe & tomahawk throwing ebook.

Specifications
| | |
| --- | --- |
| Blade Type | High Carbon Steel |
| Blade Edge Length | 4 inches |
| Handle Length | 19 inches |
| Handle Type | Straight Grain American Hickory |
Why Buy Our Tomahawk Axe Throwing 3-in-1 Package?
100% Guaranteed Against Manufacturers Defects
All HatchetsandAxes.com products are 100% guaranteed against manufacturers defects. While most of our tomahawk heads are hand forged, and our professional blacksmiths inspect each product to ensure they are free of defects, occasionally a defect will pass through quality control due to the hand crafted nature of our products. If you should receive a product with any defect such as cracking we will replace it for you free of charge.
Wax Coated Tomahawk Handles
Each handle is carefully coated with beeswax in order to ensure a secure grip and reliable protection. Our handles come sanded smooth, splinter free and this wax coating makes for an amazing grip (even when your handle gets wet). Be sure to check out our upgraded handles which feature the same great straight grain hickory but come in a beautiful walnut stain (and then coated with wax).
NMLRA Approved Hawks
NMLRA stands for the National Muzzle-Loading & Rifle Association. HatchetsandAxes.com is a proud support of the NMLRA as well as provider of throwing tomahawks that follow the specific regulations of the NMLRA hawk throwing rules.
High Carbon Steel Blade
Each blade is hand forged from high carbon steel. The steel we have chosen has been selected as a result of diligent testing and ensure strength, durability, and long term reliability. Due to the nature of steel, each head will come with a light protective coating to prevent rusting.
Straight Grain USA Made Hickory Handles
All our throwing tomahawks come standard with 100% USA made straight grain hickory. We get our wood from the world famous Appalachian mountains and hand selected hickory. These handles are built to last and have proven themselves as a great combination of affordability and reliability.
Sharpened Blade Edges
Each blade is sharpened to ensure maximum penetration under current NMLRA rules and regulations. These blades are not designed to be extremely sharp (like the type you shave with). Our blade edges are far from dull, but they are sharpened only enough to hold a sharp enough edge for typical cutting & throwing scenarios.
Hand Forged Head
HatchetsandAxes.com has professional blacksmiths that produce all of our tomahawks and axes. Our forge is dedicated to producing top quality products. In our case, hand forging results in the most durable, long lasting and highest quality products. Yeah, it's a more traditional approach, we know that. But we stick with it when other companies try and cut corners and drop forge their products.
---
In the package you will get:
Hand Forged Custom Throwing Tomahawk (SKU TM101)
EBOOK - Axe & Tomahawk Throwing Basics (SKU ebook1)
Spare Straight Grain American Hickory Handle (SKU HD101)
1. HAND FORGED THROWING TOMAHAWKWith Hard Straight Grain Hickory Handle. A Perfectly Balanced Competition Throwing Tomahawk with a Hand Forged 4 inch blade. Comes with 19 inch straight grain American Hickory handle.
2. EBOOK - AXE & TOMAHAWK THROWING BASICS This 38 page full color digital ebook features instructions on how to throw tomahawks and axes and includes pictures of many different tomahawks and axes, targets, and modification ideas. This is an EBOOK which means it is only downloadable to your computer and does NOT come in print with the package.
3. SPARE STRAIGHT GRAIN AMERICAN HICKORY HANDLES This is a high quality spare throwing tomahawk handle turned right here in the USA. Spare handles are a necessary item when throwing hawks.
Size Guides
Age Recommendations

Size & Length

Recommended Hawks (by SKU)

12 & Under

Small Hawks(16")

Teens & Women

Medium Hawks (18"-19")

TM112, TM103A, 310-102, 310-103, KT102,

KT103, KT104

Men

Large Hawks (19")

B101, TM101, TM102, KT102, KT103,TM105, TM106, TM108
Payment & Security
Your payment information is processed securely. We do not store credit card details nor have access to your credit card information.
throwing tomahawk
I thought I was getting 3 tomahawks but I received one with an extra handle. I like the axe but was disappointed when I only received one in my shipment.
bad advertising
you guys made it seem that i was getting 3 axes instead of one (for $55.00 Dollars!!!!), pure bullshit, over and out.
Tomahawk Axe Throwing 3-in-1 Package
Fast delivery
Good price and seems to be good quality, Fast delivery. The only problem I have had was when I opened the box and was inspecting my purchase. It had a sticker that says made in India.
Extremely satisfied
l am happy with my purchase everything about the hatchet & handle seem well balanced.