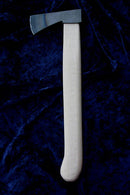 Description
Replica of axe found in the James Johnston collection, excavated many years ago from a Mohawk Indian site near Rome, New York. At 4.8 inches long, it is light, yet still very effective as a small utility or belt axe. The 14" handle is straight grained hickory. Pattern in use around the 1700s.
Features Include:
Material: 4140 or 6150 steel (heat treated)
Head Length: 4.8 inches
Handle: Straight Grained Hickory
Overall Length: 14 inches
*Note: Subject to up to a 7 day shipping delay
Size Guides
Age Recommendations

Size & Length

Recommended Hawks (by SKU)

12 & Under

Small Hawks(16")

Teens & Women

Medium Hawks (18"-19")

TM112, TM103A, 310-102, 310-103, KT102,

KT103, KT104

Men

Large Hawks (19")

B101, TM101, TM102, KT102, KT103,TM105, TM106, TM108
Payment & Security
Your payment information is processed securely. We do not store credit card details nor have access to your credit card information.