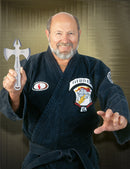 Description
ORDER BY 2:00 PM EST & IT WILL SHIP TODAY!
From the one of the most widely recognized throwing knives manufacturer, Hibben knives presents this double axe is perfectly balanced and features four-edge multi fuction design. This throwing axe can be thrown to strike the point or the axe edge. Includes genuine leather sheath.
Features Include:
Overall Length: 10.2 inches
Blade Thickness: 3/16 inch
Blade Material: one piece 420 J2 stainless steel
Sheath: Genuine Black Leather
Size Guides
Age Recommendations

Size & Length

Recommended Hawks (by SKU)

12 & Under

Small Hawks(16")

Teens & Women

Medium Hawks (18"-19")

TM112, TM103A, 310-102, 310-103, KT102,

KT103, KT104

Men

Large Hawks (19")

B101, TM101, TM102, KT102, KT103,TM105, TM106, TM108
Payment & Security
Your payment information is processed securely. We do not store credit card details nor have access to your credit card information.