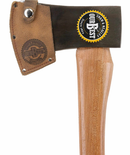 Description
This versatile utility axe is ground on stone wheels for a factory edge like no other, and tempered in fire to produce a hardness to the tool. Ideal for fence posts, garden stakes, limbing felled trees, and other practical jobs.
This splitting maul is ideal for those smaller jobs where the huge maul may be a little too much power. At 18 inches in length and featuring a 3 pound head it is ideal as a small job splitting mini maul. Comes with a manufacturers lifetime warranty.
Specifications:
Handle Length: 28"
Head Weight: 32-1/4 lbs.

Manufacturer's Lifetime Warranty
Leather Blade Guard Included
Size Guides
Age Recommendations

Size & Length

Recommended Hawks (by SKU)

12 & Under

Small Hawks(16")

Teens & Women

Medium Hawks (18"-19")

TM112, TM103A, 310-102, 310-103, KT102,

KT103, KT104

Men

Large Hawks (19")

B101, TM101, TM102, KT102, KT103,TM105, TM106, TM108
Payment & Security
Your payment information is processed securely. We do not store credit card details nor have access to your credit card information.