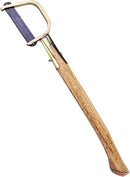 Description
Swedish Safety Brush Axe designed to take down bushes with ease and safety in an axe style motion. This swedish brush axe is the perfect tool for getting that extra leverage you need to clear out the brush.
Specifications:
Overall Length: 27"
Cutting Edge: 5.5"
Handle: Hickory
Razor Sharp Blade
Blade is Replaceable
Size Guides
Age Recommendations

Size & Length

Recommended Hawks (by SKU)

12 & Under

Small Hawks(16")

Teens & Women

Medium Hawks (18"-19")

TM112, TM103A, 310-102, 310-103, KT102,

KT103, KT104

Men

Large Hawks (19")

B101, TM101, TM102, KT102, KT103,TM105, TM106, TM108
Payment & Security
Your payment information is processed securely. We do not store credit card details nor have access to your credit card information.