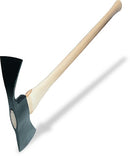 Description
Grub Hoe/Axe combination forestry tool approved and manufactured to United States Forest Service specifications. Best used for chopping, digging, grubbing, and cutting through rocky terrain.
Specifications:
Overall Length: 36 inches
Head Weight: 3.75 lb
Head Material: Drop Forged Carbon Steel
Handle Material: Hickory
USFS Approved
Size Guides
Age Recommendations

Size & Length

Recommended Hawks (by SKU)

12 & Under

Small Hawks(16")

Teens & Women

Medium Hawks (18"-19")

TM112, TM103A, 310-102, 310-103, KT102,

KT103, KT104

Men

Large Hawks (19")

B101, TM101, TM102, KT102, KT103,TM105, TM106, TM108
Payment & Security
Your payment information is processed securely. We do not store credit card details nor have access to your credit card information.